Aneeb Elasto Seal 104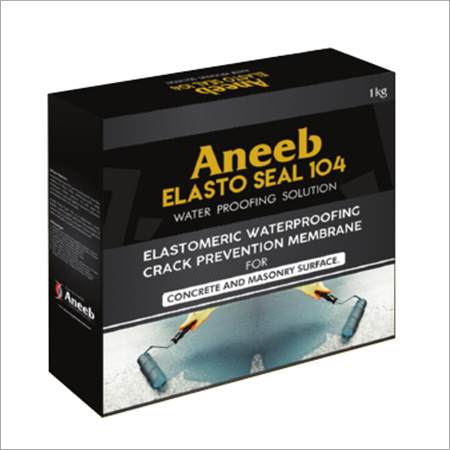 Aneeb Elasto Seal 104
Product Description
Aneeb Elasto Seal 104 is a two component cementitious & acrylic flexible waterproofing & protective coating composed of best quality portaland cement, properly selected & graded aggregates, additives & acrylic emulsion polymer as a binder. It is applied to waterproof and protect concrete and similar structures. specially formulated for Swimming Pools, Retaining walls, Pile Heads, Water Tanks, Submerged Tunnels, Sumps, Bridge Decks, Marbles, Granites and a wide variety of extreme service class structures because on curing it forms an excellent ELASTOMERIC, WATERPROOF & PROTECTIVE layer over the substrate.
Areas of Application
It can be applied to new or old concrete structures that are structurally sound and strong.

Basement retaining walls. Structural surfaces of dykes.

Pile Heads. Waterproof coating (bottom coat) for marble,

Structural surfaces of cellars. granite and other natural stones.

Concrete roof slabs, floors, balcony Suitable for steam room waterproofing.

floor slabs. Sewage treatment plants.

Water tanks and swimming pools.

Bridge deck For special applications such as areas where BE CECKS. more thick plaster application is needed. Canals and dam walls.
Features & Benefits
Flexibility

Adhesion

Water permeability

Diffusion

Slip resistant

Low temperature resistant

Waterproof

Carbonation
Method of Application
Surface Preparation
The surface must be strong & free from dirt, dust & loose particles. Thoroughly wire brush the surface & clean the dust by air compressor or wash the surface with water. Oil & grease must be removed using degreasing solvents. Any damaged surface must be repaired by using polymer modified repair mortar.
Mixing
Shake well the liquid component to a homogenous milky colour , before mixing transfer entire quantity of liquid component into a suitable clean mixing vessel, gradually start addition of powder component under constant mixing with a stirrer using a pneumatic or electric power tool (1kw) at slow speed at 250 300 rpm for 3- 5 minutes to a homogeneous & uniform free flowing slurry.
Application
Blinding Coverage
Apply slurry coat of mixed material for two coats at a coverage rate of 1.5 kg/m2 over the set concrete slab by a masonry brush or appropriate power spray equipment.
Concrete slabs or roof slabs
Two coat of mixed slurry to be applied to the set concrete @ 1.5 - 2kg/m2 by a masonry brush, roller or appropriate power spray equipment.
Pile Heads
Two coats of mixed slurry to be applied on to the pile head @ 0.75kg/m2 first coat and 1.25 to 1.5 kg/m2.

Second coat either by a masonry brush or by appropriate power spray equipment.
Water tanks and Swimming pools
Two coat of Aneeb Elasto Seal 104 applied @ 1.5 kg/m2 each coat by a masonry brush or an appropriate power spray equipment.

All applications where two coats is specified, the second coat shall be applied when the first coat is completely dried.

The treated area should be protected from direct sunlight and to be damp cured by covering with damp hessian or similar system.
Marbles/Stones
It is recommended to apply one coat at the bottom side of the marble @ 1.5 mm thick at a coverage of approximately 1.8 to 2 kg/m2.
Precautions & Limitations
Mix the entire quantity of both the components at one go.

Do not use powder with the liquid other than the powder accompanied with liquid, it will affect the Performance.

Do not add water for dilution.

Do not flood or over expose the treated surface to water until it is completely cured.
Product Details
| | | |
| --- | --- | --- |
| Tests | Results | Test Methods |
| Tensile strength | 2.5 | ASTM D-522 |
| Slart shear bond strength (Mpa) | 4.2 | ASTM D-454 |
| Puncture resistance (N) | 942 | ASTM E-154 |
| Water permeability, (gm/m2h) | 0.36 | ASTM D-96 |
| Pull of Bond Test (Mpa) | 2.6 | ASTM D-1583 |
Contact Us
Khasra No 1250, Village Morta, Near Morta Road, Industrial Area Ghaziabad Uttar Pradesh India +918045478219
Phone :+918045478219