Aneeb Crete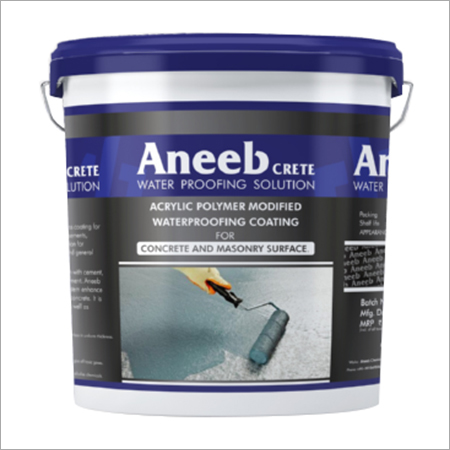 Aneeb Crete
Product Description
Acrylic polymer modified waterproofing coating for Concrete and masonry Surface.
Feature:
Acrylic polymer modified waterproofing coating for Concrete and masonry Surface.
Aneeb Crete gives a waterproof, Seamless coating for Water tanks, Swimming pools, roots, Basements, toilets, terraces.

It's also ideal for protection tor concrete against corrosion, salt attack and general repair of concrete.

Aneeb Crete when used in combination with cement, its improve the shortcoming to plain cement. Aneeb Crete is a acrylic copolymer coating system enhance the properties of cement slurry, mortar, concrete. It is very use full in new construction and as well as renovation work
Advantage:
Give easy to apply with most of horizontal and vertical surface in uniform thickness.

Provided extra bond to most of building areas.

It is not harmful tor health.

It is most properties improve with age.

When exposed to tire , its is not flammable and does not give off toxic gases.

It is highly durable in wet condition.

UV ray resistant and not effected by mild acid and strong alkalies chemicals.
Application: Before application of coating , Surface should be prepared as mention below.
The Surface must be cleaned to remove all loose materials, dust, iron and any deposits of contamination, It can be done by grinding, hammering, scaritying, water and sand blasting and other method, so bond could not be effected between surface and coating.

Flat surface shall be made reasonable smooth like sub-based concrete so application of coating possible.

Surface should be pre wet thoroughly at least one hour prior by application of coating. Before application of coating all extra water should be removed so only surface is damp.

Depressions are filled and leveled by using Aneeb crete filler ( Mixing ration 1 kg cement : 1.5 kg silica : .52 kg Aneeb Crete. Standard coating system can be father reinforced by applying fiber mess between two coatings.

Aneeb Crete acrylic polymer is mixed with cement in ratio of 1:2 , means 100 kg cement mix with 50 kg polymer . Mix stirred well so no air bubbles and lumps remain. The mix has to be applied by brush on ready surface . Two coating should be applied. After application of one coat second coating should be apply after 4-5 hour.

Aneeb Crete must be allied with in temperature range between 10 c to 35 c. During first 12 hour it must be save trom water , rain and adverse condition and no load or traffic allowed on coating surface .After application of final coating of polymer no water curing should be apply during air drying.

In case of high temperature and low humidity coating should be covered with polythene sheet to avoid rapid drying . 24 hour moist curing must be required atter application of tinial coating with in 6 hour by the way of spraying of water or any other approved method. During this period at no point of time should the coating be left dry and submerged in water.
Product Details
| | | |
| --- | --- | --- |
| Material | Qty of Material in Kg | 1.5mm thickness |
| Cement | 858 | 1.30 |
| ANEEB crete | 438 | .66 |
| Fine silica | 858 | 1.30 |
Contact Us
Khasra No 1250, Village Morta, Near Morta Road, Industrial Area Ghaziabad Uttar Pradesh India +918045478219
Phone :+918045478219