Aneeb Roof Mate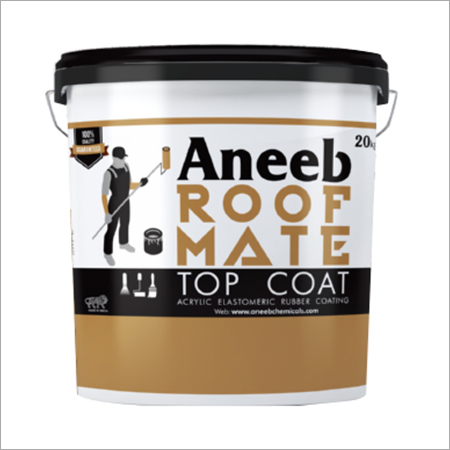 Aneeb Roof Mate
Product Description
Aneeb Roof Mate Coating is an single component elastomeric coating that offers waterproofing as well as aesthetics in a single pack. It provides the complete solution to prevent dampness and see pages that spoil the expensive interiors and decorative interior paints. It is highly user friendly and ecofriendly.
Aneeb Roof Mate Coating is elastomeric in nature and has good resistance to weather and sunlight.
Aneeb Roof Mate Coating has excellent flexibility, breathing properties, water resistance, crack bridging properties, weathering durability, and excellent resistance to growth of microbial organisms.
Areas of Application
As a weatherproof, protective and decorative coating for exterior masonry, concrete, cement, sand rendered surfaces, all types of exterior walls, etc. Also can be used on dry wall surfaces like cement fiber boards.
With concrete repair works as an elastic protective top coating on Repair Guard ready mix polymer mortar.
Features & Benefits
Waterproofing - High film build up provides excellent water resistance

Elastomeric -Excellent flexibility and elongation properties - can easily accommodate all normal

building movements.

Seamless - Can be applied to complex shapes to form a seamless and highly durable water

proofing coating.

Adhesion - Adheres firmly to most of building surfaces including concrete, brick etc. both

horizontal and vertical surfaces.

Water based - Easy cleaning of tools and brushes by water.

Easy to apply - Suitable consistency for easy application by brush, roller or squeegee
Direction for Use
Adequate surface preparation as given below is necessary for product performance.
Surface Preparation
New Masonry
Surface preparation is generally limited to cleaning by broom brush or compressed air. All surfaces to be applied must be free trom dust, loose material, oil, or any other material which may impair adhesion of the
material. All surface cracks up to 5 mm wide should be filled up with the same material and pre-striped

prior to application of the material. All joints of vertical up stand should have 50 x 50 mm angle fillets

prepared with sand -cement mortar; mixed with Aneeb CRETE.
Application of Aneeb Roof Mate Coating
Apply a coat of Aneeb Root Mate Coating over an angle fillet as a reintorcing strip all around the
parapet wall and allow drying. Apply on all vertical up stand at an average girth of 200 mm. Apply 2 coats Aneeb Root Mate Coating at 0.75 ltrs / m2/ coat, at an interval of 12 hrs between the coats and allow drying completely.
Technical Specifications
Nature: Acrylic co-polymer with special additives
Thinner: Clean potable water
Drying time: Dry to touch-30 minutes
Re coating period: Minimum 10-12 hrs at room temperature (ideally 24 hrs)
No. of coats: 2
Contact Us
Khasra No 1250, Village Morta, Near Morta Road, Industrial Area Ghaziabad Uttar Pradesh India +918045478219
Phone :+918045478219