Plaster Cum Putty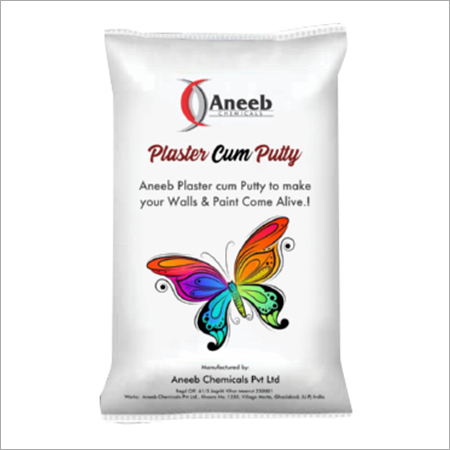 Plaster Cum Putty
Product Description
Aneeb Plaster cum Putty is a water resistant white cement based putty which provides a strong base on concrete/mortar walls (Internal and External) and ceilings. It is applied before painting of the wall. It fills the fine pores of the walls and ceilings, thereby providing a white, smooth and dry surface for painting. Being water resistant it provides a protective base which prevents expensive paint from flaking. Aneeb Plaster cum Putty has special added polymers and more adhesive strength which provides a strong base ensuring a longer life for the painted surface. It does not require water curing and it can even be applied on freshly plastered wall thus resulting in savings of time and cost. During repainting, the surface done up with Putty requires minimum scrubbing thus eliminating the mess of dust, which is a health hazard especially for asthmatic patient
Features

Doesn't need any kind of primer on it before application of paint/distemper thus saving time & cost.

Can be applied on both interior and exterior walls & ceilings.




Gives a smooth, white & glossy finish surface, which effectively reduces the consumption of subsequent Paints & gives true tone of colour.

It is in dry powder form and does not produce any kind of unpleasant smell at the time of

application.

It is Eco-Friendly. It does not contain lead, oil or toxic material.

Has anti-carbonation properties thus protects the reinforcement bars from corrosion.

Does not require any water curing after application thus saving time & cost.

Is water resistant and can be applied on moist surface.

Accepts any kind of paint or distemper application on it.

Can be applied on used surface after proper preparation.

It prevents the growth of algae and fungi on walls.
Contact Us
Khasra No 1250, Village Morta, Near Morta Road, Industrial Area Ghaziabad Uttar Pradesh India +918045478219
Phone :+918045478219